Experience the acrobatic thrill
Immerse yourself in the exhilarating world of aerobatics with the Nanchang CJ-6, a fully aerobatic piston radial aircraft that combines affordability, performance, and historical significance. Buy this piston airplane at auction by requesting bidder access here. With the registration number N600YK, this CJ-6 holds unique features and a remarkable maintenance history.
As one of only three CJ-6 aircraft delivered new for the USA civilian market, this particular aircraft stands out from the rest. Meticulously maintained by a single owner, it is in exceptional condition, with readily available parts and service, ensuring hassle-free ownership. Transition training is also available to familiarize pilots with its capabilities. See it soaring and manuvering here.
2001 Nanchang CJ-6 – N600YK// Acrobatic! //
Capabilities:
This CJ-6 is rated for maneuvers up to +6 -3 G, making it suitable for thrilling aerobatic displays. Picture yourself at the controls, commanding a 360 horsepower radial piston engine that propels this aircraft to speeds of up to 186 mph. With a payload capacity of 500 lbs and a range of 500 miles, you can embark on exciting cross-country adventures.
Stand out from the crowd at fly-ins and air shows, as this Nanchang CJ-6 captivates onlookers with its performance and timeless design.
History
The airframe of this aircraft dates back to 2001 and has remained under the care of a dedicated owner. Its condition was last inspected on December 4, 2022, ensuring its airworthiness. With a total time since new (TTSN) of 1120 hours, this CJ-6 is primed for many more memorable flights.
Powering the aircraft is an M14P engine, serial number KR31008, which has undergone 400 hours since major overhaul (SMOH). Originally from a Yak 52, this Russian engine delivers 360 horsepower and features a gear reduction system, enhancing performance and efficiency.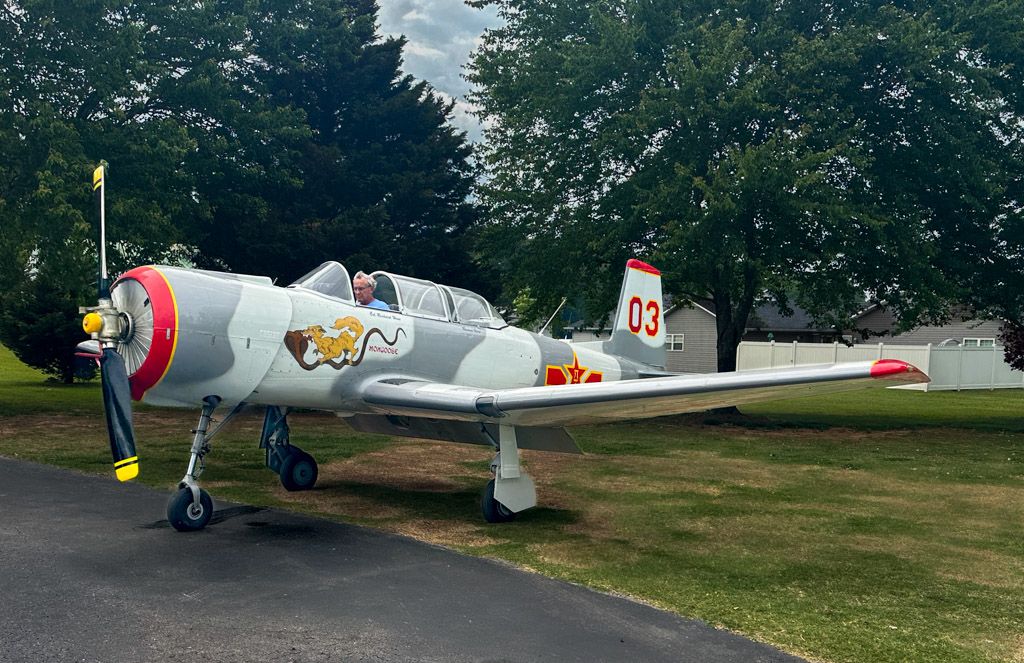 The propeller, a V530 B530TA-35 with serial number 9400023, boasts a nickel leading edge, ensuring durability and reliability. With a total time of 356.4 hours since installation on March 23, 2013, and 400 hours since overhaul (SOH), the propeller is in excellent condition.
Avionics
Avionics on this CJ-6 include a Garmin 430 WAAS for navigation, a Garmin GTX 345 ADSB Transponder for enhanced situational awareness, a US ADI for flight information, and a Gear Warning System. Extended range fuel tanks, totaling 85 gallons, provide extended flight endurance. The TruTrak autopilot enhances flight control, while the second Garmin VHF radio ensures effective communication. A Shadin fuel flow system offers precise fuel monitoring capabilities.
Additional features include a Darton Clean Kit for improved aerodynamics and a visually striking exterior. The exterior showcases a grey and white camouflage paint scheme adorned with Mongoose capturing a cobra in its mount and Chinese red star decals, truly making it a standout aircraft. Inside, the grey leather single seat cockpit is designed to resemble a fighter aircraft, featuring a center stick and strategically placed controls and tools for convenient access.
In summary, the Nanchang CJ-6 with the registration number N600YK presents a unique opportunity to own an affordable, fully aerobatic radial aircraft with a rich history. Impeccably maintained and equipped with impressive avionics, this CJ-6 is ready to offer thrilling aerobatic displays, memorable cross-country flights, and an authentic fighter cockpit experience. Win the right to buy this remarkable piston airplane, register to bid today