In the vast expanse of the aviation world, few aircraft shine as brightly as the Cessna 172M with straight floats. This iconic aircraft has etched its legacy in history, celebrated for its reliability, versatility, and unmatched performance. From its roots in aviation history to its presence in today's skies, the Cessna 172M with straight floats embodies the essence of general aviation excellence. In this comprehensive article, we journey through time to explore the history, uses, and enduring popularity of this remarkable aircraft while delving into Cessna's storied past and its latest line of aviation marvels.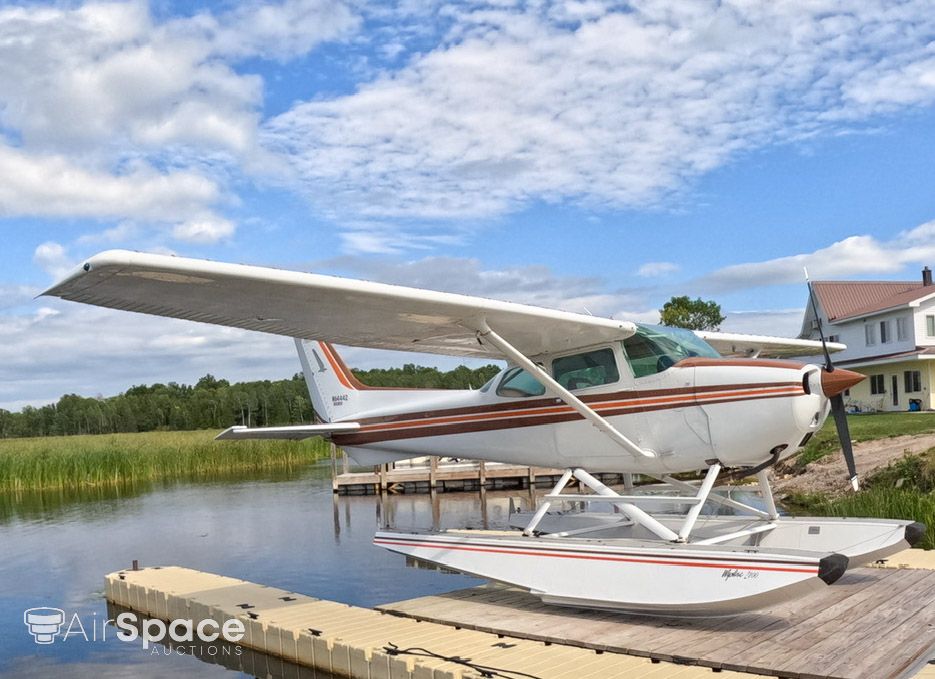 A Glance into the Past: The Cessna 172M with Straight Floats
The year 1975 marked a significant milestone in aviation with the introduction of the Cessna 172M with straight floats. As a continuation of the Cessna 172 legacy, this aircraft combined the proven features of its predecessors with the innovation of straight floats, revolutionizing its capabilities for water operations. With the registration number N64442, this model became a true icon of its era, and its legacy continues.
Ease of Maintenance: A Testament to Engineering Excellence
One of the hallmarks of the Cessna 172M is its user-friendly maintenance. The aircraft boasts a well-established network of maintenance facilities and available parts, simplifying maintenance and minimizing costs. Mechanics are well-acquainted with its systems, and readily available replacement parts reduce downtime, ensuring pilots spend more time in the air and less on the ground.
Versatility: The Cessna 172M's Multifaceted Nature
The Cessna 172M is renowned for its versatility, capable of conquering a wide spectrum of flying activities. From flight training to recreational flying, sightseeing, and short-distance travel, this aircraft excels in every role it undertakes. Its stability and forgiving flight characteristics make it a preferred choice for pilots of varying skill levels, elevating it to a league of its own.
The User-Friendly Cockpit: A Nurturing Environment for Learning
The cockpit of the Cessna 172M is a testament to its user-centric design. With an intuitive instrument panel and straightforward controls, the aircraft embodies simplicity and ease of use. Aspiring pilots often embark on their aviation journey in a Cessna 172M due to its user-friendly cockpit, which nurtures the development of fundamental flying skills.
Cessna's Illustrious History: Shaping Aviation's Trajectory
Cessna's history is intricately woven into the fabric of aviation. The company's journey commenced with the vision of Clyde Cessna in 1927, with a focus on delivering small, accessible aircraft for personal use and flight training. This vision evolved into a legacy of innovation, giving rise to iconic aircraft that have left an indelible mark on aviation history.
From Legacy to Innovation: Cessna's Latest Line of Aircraft
As the aviation landscape evolved, so did Cessna's aircraft offerings. The company's commitment to innovation is exemplified by its latest aircraft line, designed to meet the demands of modern aviators. From the Cessna 208 Caravan, a versatile single-engine turboprop, to the luxurious Citation jets, Cessna's portfolio continues to set the bar for excellence in aviation.
The Auction Gem: 1975 Cessna 172M with Straight Floats
As a testament to the enduring allure of the Cessna 172M with straight floats, a remarkable gem has emerged – a 1975 Cessna 172M on Wipaire model 2100 straight floats. This aircraft, with the registration number N64442, showcases a journey through time while encapsulating the evolution of aviation technology and design.
First, let's look at the specifications of the 1975 Cessna 172 with straight floats. This vintage beauty is a creation of Cessna, a name synonymous with the hallmark of general aviation.
Now, let's dive into the specifications that make this aircraft shine! Starting with those Wipaire Model 2100 Straight Floats. And that's not all—Micro VG, Power Flow Exhaust, and a robust 160 HP RAM Engine come together to define this aircraft's capabilities.
This 1975 Cessna 172 has been very well cared for. With a 160HP RAM conversion, it's ready to embrace new adventures. Its freshwater floating dock is also available for purchase outside of the auction.
Let's break down the components that make this aircraft soar. With its captivating history, the airframe boasts a 1975 Cessna 172M S/N 17265230 TT 2980, adorned with Wipaire floats model 2100. Left S/N 21909 and Right S/N 21910!
The heart of this aircraft is in its engine—a Lycoming O-320-E2D S/N L-42041-27A. Clocking in at just 280 SMOH by Horizon, it's a testament to precision and performance. The RAM 160HP conversion and those compressions—#1 at 78, #2 at 79, #3 at 79, and #4 at 78—show an engine with many reliable hours of flight time ahead.
A McCauley Model leads the way, 1A175 S/N P80270, boasting 280 SMOH with an overhaul completed back in 2015.
Now, it's time to explore the classic cockpit. With a Garmin 510 GPS, a PS Engineering PM3000 Audio Panel, 4-place audio jacks, a 300 XPDR RT-359 Transponder, and an MX300 Audio and Navigation Radio, this aircraft has all the tools a pilot needs for quick jaunts or cross-country endurance adventures.
A full tricycle landing gear ensures stability, while main wheel pants, plastic strut covers, and a land prop enhance style and performance. Original wheels and wheel pants will be sold with the airplane on floats.
An additional floating dock and lift ramp are available, elevating the ownership experience to new heights.
The exterior—a white base adorned with orange and brown stripes. It's a sight to behold, showcasing elegance and a dash of adventure. This aircraft has stories to tell a minor patch here and a small dent there.
As we step inside, you'll be greeted by orange and white seating, complemented by brown carpets and white and orange side panels. It's an interior that exudes charm and character despite the years.
Now, mark your calendars for all you aviation aficionados who want to make this marvel yours! The auction starts September 27, 2023, at noon Central. Learn more about the auction and register in the links on this page.
Navigating the Skies with Cessna's Legacy
The Cessna 172M with straight floats, a timeless aviation masterpiece, continues to capture the hearts of pilots and enthusiasts alike. Its rich history, unwavering reliability, and exceptional versatility have solidified its place in the annals of aviation greatness. In all its glory, this aircraft serves as a testament to Cessna's enduring commitment to delivering excellence in the skies. Whether soaring over water or land, the Cessna 172M with straight floats stands as a beacon of aviation prowess, an emblem of Cessna's legacy, and a canvas upon which new adventures are painted with every flight.