The Cessna 182J: A Time Capsule of Versatility and Quality
In the world of aviation, certain aircraft stand as iconic symbols of reliability, versatility, and performance. Among these legends, Cessna aircraft often take center stage. The 1965 Cessna 182J is no exception. In this blog post, we'll explore the rich history, features, and enduring appeal of this classic aircraft, which is scheduled to go up for auction on November 7, 2023, through AirSpace Auctions.
The Dominance of Cessna in General Aviation
Before we delve into the specifics of the 1965 Cessna 182J, it's important to acknowledge Cessna's overarching influence in the world of general aviation. Cessna's reputation for producing well-made and versatile aircraft has made them a dominant brand across various segments of aviation, from family travel to flight school instruction.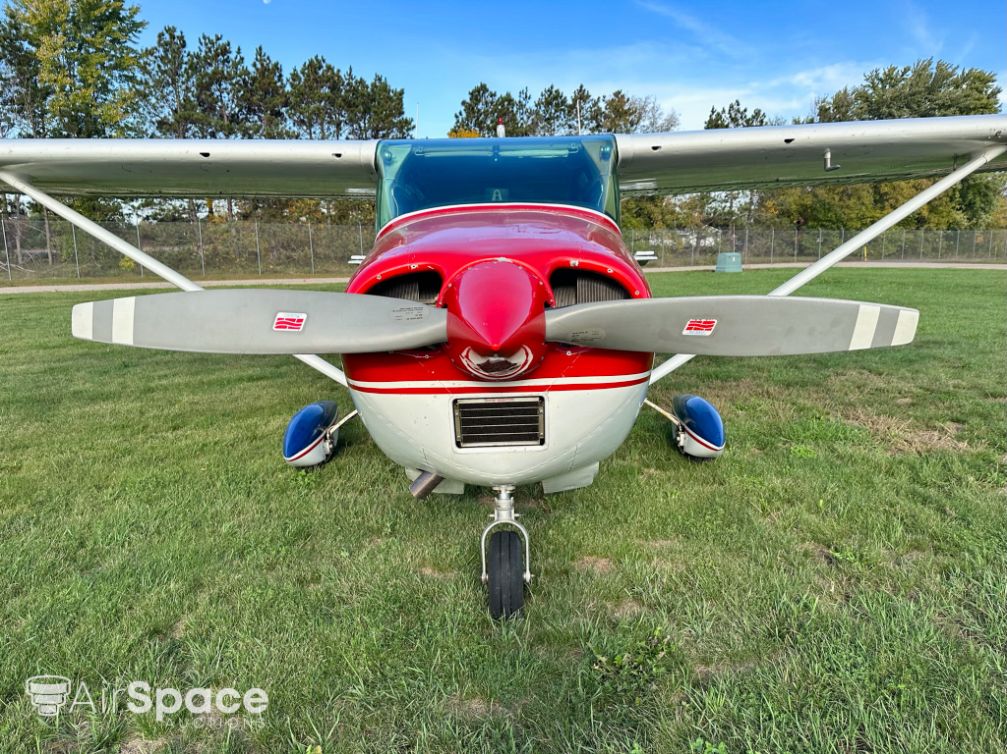 A Brief History of the 1965 Cessna 182J
The 1965 Cessna 182J is part of a lineage of aircraft that has contributed significantly to Cessna's legacy. Let's explore the historical backdrop of this model:
Year of Production: 1965
In 1965, Cessna introduced the 182J, continuing its tradition of producing high-quality general aviation aircraft. The 182 series was celebrated for its balance of performance and utility, and the 182J was no exception.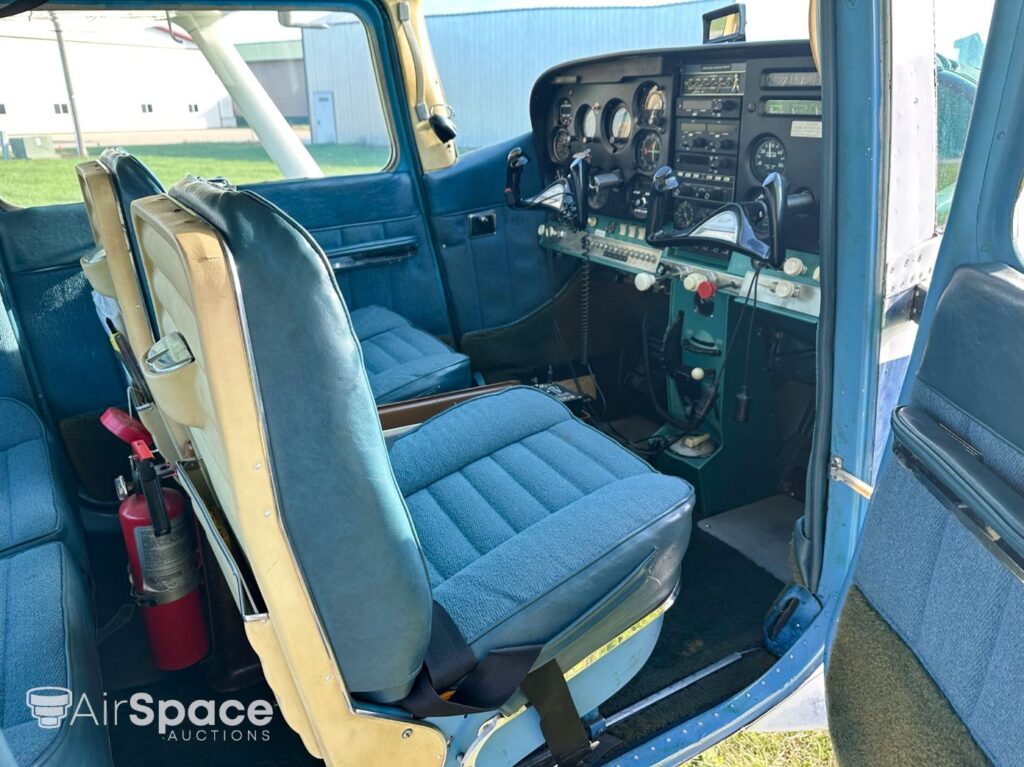 Construction Material
The 1965 Cessna 182J was primarily constructed using aluminum, a material known for its strength-to-weight ratio, making it an ideal choice for aircraft manufacturing. This aluminum construction ensures durability without compromising efficiency.
Available Engines
Powering the 182J is the Continental 0470R5JB engine, with serial number 288223-R. The engine underwent a factory overhaul in July 1994, ensuring its continued reliability. With a history of reliable performance, the Continental engine was a hallmark of Cessna aircraft.
Years Produced
The Cessna 182J was produced as a part of the Cessna 182 series, which began in the 1950s and has continued with various improvements and models up to the present day.
A Time Capsule of Quality
The 1965 Cessna 182J, coming up for auction, is not just an aircraft; it's a time capsule of quality, boasting a well-preserved interior that's nearly as new as the day it rolled out of the factory. Let's delve into the aircraft's notable features:
Airframe Details
Well-maintained classic
Immaculate original interior
Overall paint shows nicely
Good glass all around
The Cessna 182J N2628F, with serial number 56728, has a total time of 5350 hours. It has been meticulously maintained and showcases its original interior in near-pristine condition. The exterior paint is also in excellent shape, making this aircraft truly remarkable.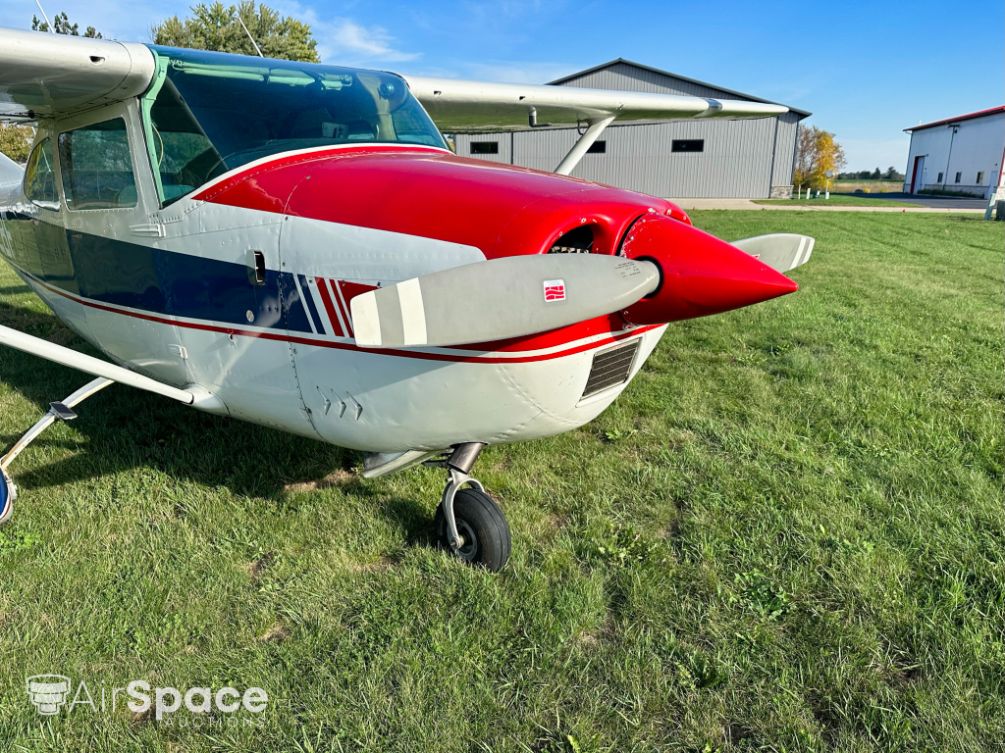 Engine Details
Continental Model 0470R5JB
Serial Number 288223-R
Factory overhauled engine installed in 7/94
Since Major Overhaul (SMOH): 850 hours
Total Time: 3050 hours
Compressions:

70/80
72/80
70/80
77/80
75/80
73/80
The Continental engine, factory overhauled in July 1994, has an SMOH of 850 hours. The excellent compression values reflect the engine's health and reliability, essential for a safe and efficient flight.
Propeller Details
McCauley Propeller Model 2A34C66-NP
Blade Model S-9OAT-8
Hub Serial Number 779578
Blade 1 Serial Number K81277YS
Blade 2 Serial Number K81345YS
Overhauled in 1/8/92
Since Overhaul (SOH): 1430 hours
The McCauley propeller complements the Continental engine, with an overhaul date in January 1992. The SOH of 1430 hours ensures efficient performance during flight.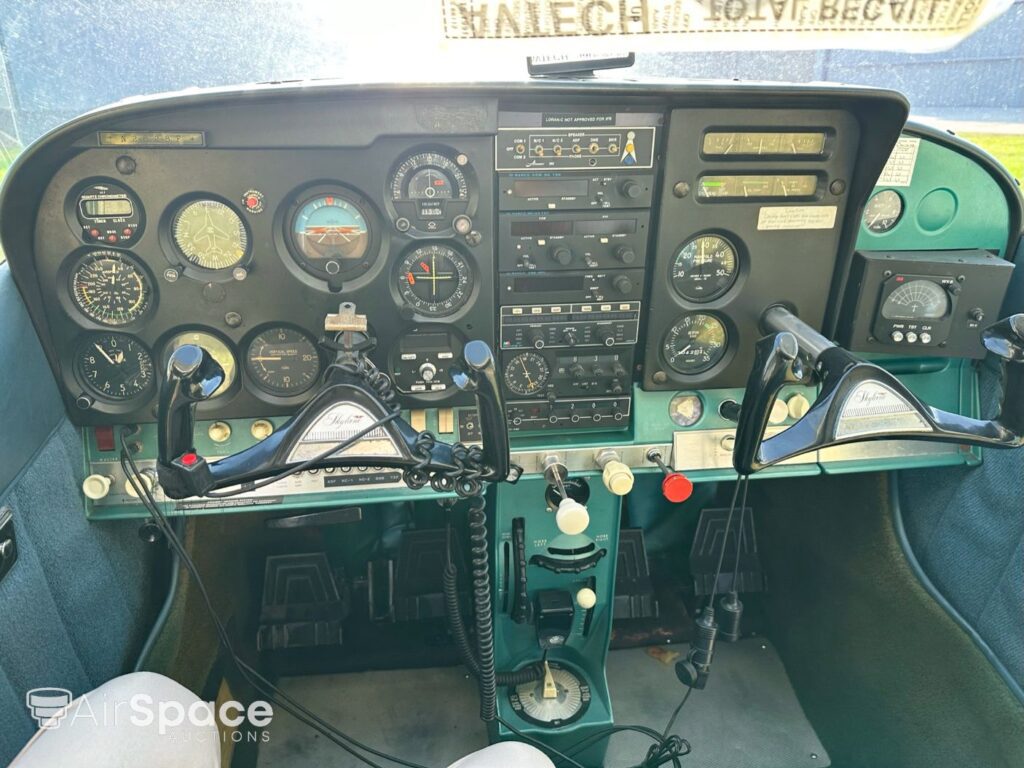 Avionics Details
The avionics suite includes essential instruments such as an Astrotech chronometer, airspeed indicator, altimeter, Directional Gyro (DG), bank indicator, vertical speed indicator, artificial horizon, Mac Radio, VOR (VHF Omnidirectional Range), oil temperature and pressure gauges, cylinder head temperature gauges, fuel gauges, ammeter, AirMarc 288 com, Narco 810 TSO radio, Narco MK12D TSO radio, Narco 890 DME, Northstar M1 Loran, S-Tec SC178 autopilot, Sky Beacon ADSB, transponder (inoperative), and ADF (inoperative).
Additional Features
The aircraft is missing the front wheel pant, a minor cosmetic detail that doesn't detract from its overall appeal.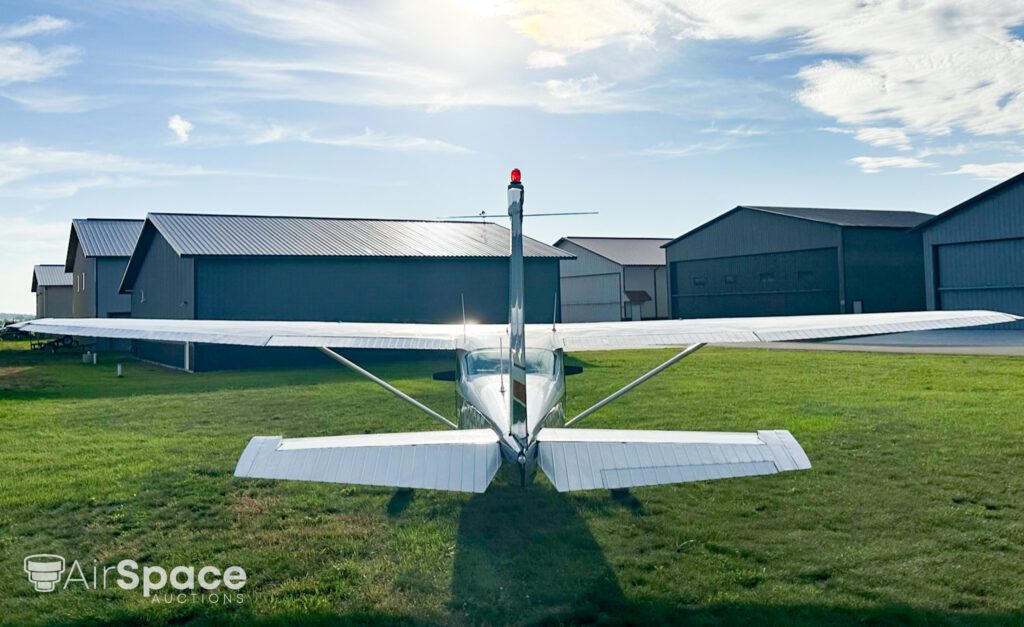 Exterior and Interior
The exterior features a white base with red and blue accents, presenting a clean and timeless look. The interior is a standout feature, with original blue cloth seats accented with white elements. The interior is remarkably well-preserved, presenting an appearance of 8 out of 10.
Auction Details
For those considering adding this remarkable Cessna 182J to their aviation collection, here are the essential auction details:
Contact Phone: 254-735-5030
Contact Email: AirCrew@airspaceauctions.com
Registration Number: N2628F
Make: Cessna
Model: 182 J
Required Deposit: $3,000
Buyer's Premium: 6%
Start Date: November 7, 2023
End Date: November 14, 2023, 12:00 pm
In conclusion, the 1965 Cessna 182J is more than just an aircraft; it's a testament to Cessna's dedication to quality and longevity. With its beautifully preserved interior, recently overhauled engine, and meticulous maintenance, this aircraft is ready to provide countless hours of aviation enjoyment. Whether you're looking for a family hauler, a time builder, a flight school plane, or simply a versatile general aviation aircraft, the 182J N2628F is the embodiment of Cessna's enduring legacy in aviation. Don't miss the opportunity to make this exceptional aircraft a part of your aviation journey.