In the world of aviation, the Pipistrel Alpha Trainer N74AV has carved a niche for itself as a remarkable single-engine aircraft. This extraordinary aircraft boasts a rich history, practical uses, and a unique blend of style, reliability, and performance. In this comprehensive article, we will delve into the fascinating story of the Pipistrel Alpha Trainer, highlighting its journey from Austria to the USA and its emergence as a preferred choice for pilot training and skill building. Furthermore, we will provide insights into the upcoming auction of this practically new aircraft, scheduled for February 2023.
History of the Pipistrel Alpha Trainer
The Pipistrel Alpha Trainer has its roots in Austria, where it was originally registered as a Light Sport Aircraft (LSA). This sleek aircraft was meticulously designed and crafted by Pipistrel, a renowned aerospace manufacturer known for its innovative and environmentally friendly approach to aviation. The company's commitment to producing high-quality, energy-efficient aircraft is clearly reflected in the Alpha Trainer's design and performance.
Uses and Versatility
The Pipistrel Alpha Trainer N74AV is a versatile aircraft that serves a multitude of purposes. Its primary role is that of a trainer, making it an ideal choice for aspiring pilots looking to kickstart their aviation journey. The aircraft's lightweight construction and powerful ROTAX 912-UL2 engine make it an excellent platform for honing flying skills and building flight hours.
Its stall speed and stable flight characteristics provide a safe and controlled learning environment for novice aviators. With a useful load of 575 pounds, the Alpha Trainer can accommodate both student pilots and flight instructors comfortably. This versatility makes it a popular choice for flight schools and training programs across the United States.
Aircraft Features
The Pipistrel Alpha Trainer comes equipped with a range of features that enhance its performance and usability. Notably, its airframe is constructed from carbon fiber, ensuring durability and lightness. The Kevlar cockpit adds an extra layer of safety to the aircraft's design.
Engine and Propulsion
Under the hood, the ROTAX 912-UL2 engine powers this remarkable aircraft, providing it with the necessary thrust for training missions and leisure flights. The Pipistrel d.o.o 2 Blade propeller efficiently converts engine power into forward motion, ensuring a smooth and responsive flying experience.
Avionics
The Alpha Trainer is equipped with a suite of modern avionics, including a digital airspeed indicator, LX-Navigation digital tachometer, digital VSI, digital altimeter, and a cluster digital engine monitor. The Garmin Aera 796 GPS and Funke ATR 833 Com further enhance navigation and communication capabilities, while the Funke TRT 800H Transponder Mode S contributes to airspace awareness and safety.
Additional Features
One notable feature of the Pipistrel Alpha Trainer is its ballistic parachute system, providing an added layer of safety in emergency situations. The aircraft also boasts an electric trim system, a 12v socket for electronic devices, and ample fuel capacity for extended flights.
Exterior and Interior
The aircraft's exterior features an elegant all-white finish with striking blue accents, exuding a sense of sophistication and style. Inside, the Pipistrel Alpha Trainer offers comfortable blue fabric seats and plush blue carpeting, ensuring a pleasant and enjoyable flying experience.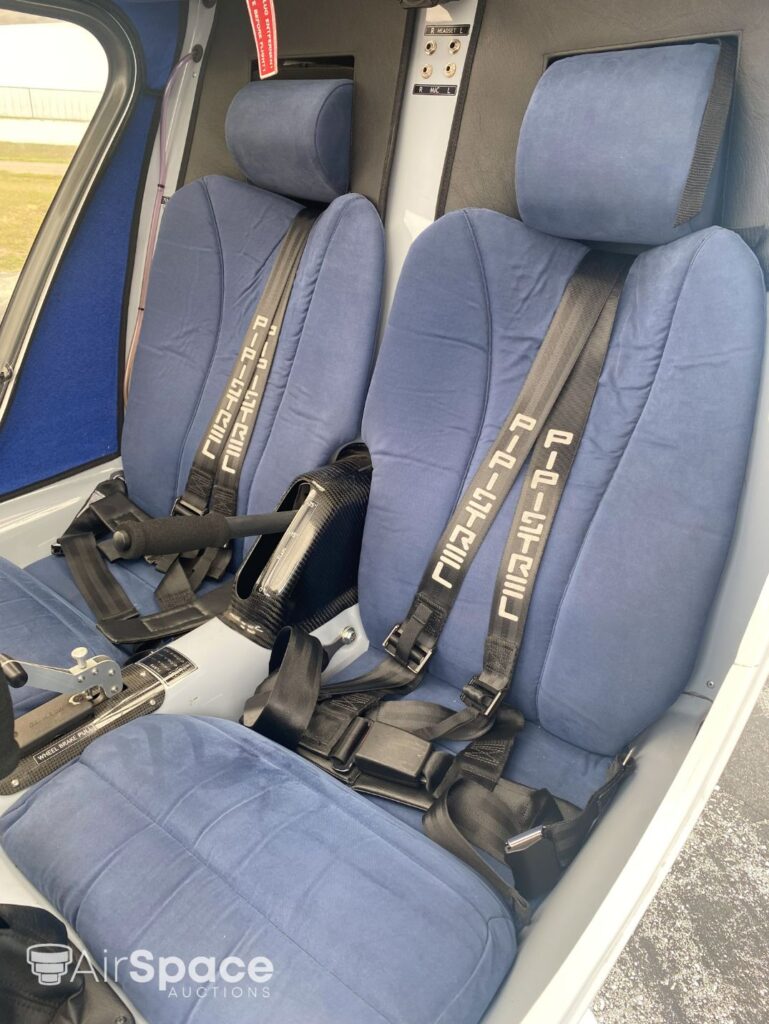 Upcoming Auction
For aviation enthusiasts and collectors, the opportunity to own a practically new Pipistrel Alpha Trainer N74AV is on the horizon. An auction is scheduled for October 18, 2023, offering interested buyers the chance to acquire this exceptional aircraft.
Important Auction Details:
Auction Dates: December 6, 2023, to December 13, 2023
Minimum Bid: $20,000
Buyer Premium: 6%
Deposit Required: $2,000
This auction presents a unique opportunity to become the proud owner of a Pipistrel Alpha Trainer that embodies the perfect balance of value and performance. Whether you're a seasoned pilot looking for a reliable training aircraft or an aviation enthusiast seeking a stylish addition to your hangar, the Pipistrel Alpha Trainer N74AV promises an unparalleled flying experience.
In conclusion, the 2014 Pipistrel Alpha Trainer N74AV is a remarkable aircraft that combines a rich history, versatile uses, and impressive features. Its journey from Austria to the USA as an experimental aircraft has paved the way for it to become a top choice for pilot training and skill building. With the upcoming auction, aviation enthusiasts have a chance to own a practically new Pipistrel Alpha Trainer and experience the thrill of flying this stylish and reliable aircraft. Don't miss out on this exceptional opportunity to bring a piece of aviation excellence to your hangar.